Staff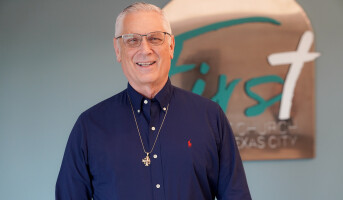 Robert Miller
Pastor
E-Mail:

Robert has served churches in Oklahoma, Missouri and Texas as pastor. He has also served in staff positions as an associate pastor and youth pastor. Robert still has a heart for children and youth, and describes himself as "still a youth minister at heart." His strengths in ministry are preaching, teaching and leading. Robert lists his favorite joy as "seeing the transforming power of Christ change someone's life." Robert also enjoys an occasional game of golf.
Robert received his Bachelor of Arts degree from Oklahoma Baptist University, the Masters of Divinity from Southwestern Baptist Theological Seminary and a Doctor of Ministry from Midwestern Baptist Theological Seminary.
Robert is married to Anne and she has been his partner in ministry for over 28 years. Anne is a dynamic teacher as well and they have led many marriage retreats together throughout their ministry.
They have two children. A son Ray, who is married to Sarah, pastors in Shawnee, OK. Their daughter, Tori, is a Nurse Practitioner in Houston.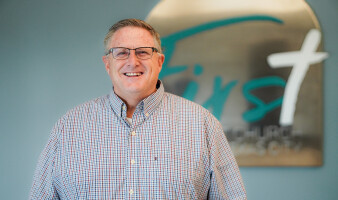 Dennis Johns
Associate Pastor | Family Minister
E-Mail:

Dennis is on his second term here at FBCTC. His first term was from 1995-2007.During the interim period, Dennis took on the role as "Minister on Staff" at Carnes Funeral Home, a family business that was established in Texas City. He rejoined the FBCTC staff in April 2009. Among his talents are the ability to fill in when needed in the pulpit, singing, teaching, and being a role model for the youth. He is well-known in the community because of his involvement and willingness to help with many civic activities. His outgoing personality is appreciated by all and he has never met a stranger.
Dennis received his Bachelor of Behavioral Science from Hardin-Simmons University in Abilene, Texas. In 2019 he completed a master's degree in Christian Spiritual Formation and Leadership from Friends University in Wichita, KS. He has served churches in Abilene, Dunwoody, Georgia and Huntsville, Texas.
His wife Kelly was born and raised in Galveston and grew up in the ministry of First Baptist Church of Galveston. They met on a cruise and were married less than a year later. They have two boys: Christian who is the Minister to Students at River Oaks Baptist Church in Houston and Parker who is attending Sam Houston State University in Huntsville, TX. Kelly, a retired Speech Pathologist is currently working with Carnes Funeral Home and is also very involved in Student Ministry.
Dennis enjoys all sports, and in fact, referees basketball in his spare time. He, along with Ronnie Hazzard, also enjoy online play-by-play duties for Victory SportsNet, a local company covering Texas City ISD and other area High School sports.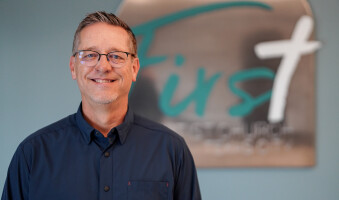 John Talley
Associate Pastor | Worship/Music
E-Mail:

John joined the staff of FBCTC in February of 2010. His true calling and love is leading the church in worship and growing the worship ministry and its leaders. He received a Bachelor of Music Education degree from the University of Central Arkansas and a Master of Music degree from Southwestern Baptist Theological Seminary.
John married Marcy (Burleson) in 1984. She is a private piano and voice teacher. They have two children: Aimee Hennessee and Emilee Drake.
Aimee and Tyler, and their two kids, live in Shreveport, Louisiana where Tyler is the Contemporary Worship Pastor at Broadmoor Baptist Church and Aimee is an elementary school teacher. Emilee and Zach, and their two kids, are in fulltime missions with CRU, currently in Thailand.
John's favorite pastime is playing golf.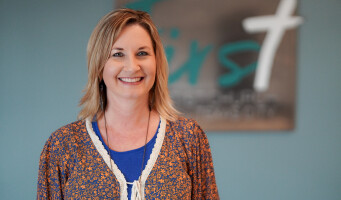 Meschel Hara
Children's Minister
E-Mail:

Meschel came on board officially as our first Children's Minister in October of 2010 by way of our Expanding Our Boundaries Capital Stewardship Campaign. She also manages our church office and custodial staff. She grew up in Texas City as well as at FBCTC. Prior to becoming a staff member, she served in Children's Ministry here at FBCTC for many years and had her own business as a court reporter.
She has a passion for leading children to Christ and helping them grow in their relationship with Him. She believes in the importance of family and wants to partner with parents in nurturing their child's relationship with Christ. Meschel serves our children and their families from birth through 6th Grade.
Meschel married LeTourneau University Graduate Chad Hara in May of 1996 in Tyler, Texas. Chad works for Rae Security in Houston and serves as a Deacon as well as a 5th & 6th Grade Sunday school teacher. They have two sons, Rylan, who is a recent graduate from Texas A&M University with a Bachelor's Degree in Marine Transportation, and Rustin, who is attending San Jacinto Community College pursing a degree in Instrumentation.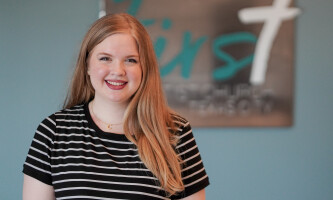 Jenny Skarke
Worship/Media Associate
E-Mail:

Jenny officially joined the FBCTC ministry team in August of 2020. She grew up in League City and was also a member of First Baptist when she was in high school. Jenny's true calling is music ministry and using music as a tool to bring all generations together in worship.
Jenny received a Bachelor of Church Music degree from Baylor University in 2018 and stayed two more years to earn a Master of Music degree, also in Church Music.
In 2016, Jenny married her husband, Michael. Michael graduated from Baylor with a Bachelors and Masters degree in Vocal Performance. He is currently studying in the Certificate in Music Performance program at the University of Houston, singing in operas and professional choirs all over the country, and teaching voice lessons here in Texas City. Jenny and Michael have two miniature schnauzers, Sebastian and Frederic. They also just became first time parents to their baby girl, Clarke Ann Skarke this past December!
Jenny's favorite things to do outside of ministry are photography and makeup.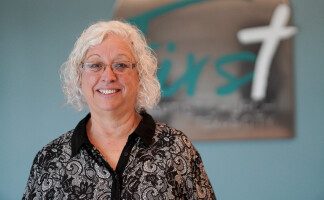 Diana Breedlove, Administrative Assistant
E-Mail: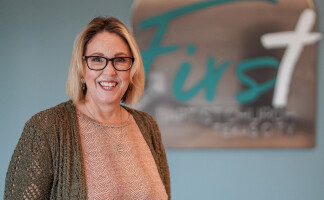 Tami Camacho, Administrative Assistant
E-Mail: